SECURITY SERVICES
A comprehensive suite of end-to-end Security Services.
SecureWais is committed to provide all initial consultancy and design, installation and build, through to any training of on-site staff and follow-up maintenance and servicing.
We are constantly updating these services – as with the introduction of our card bureau services.
We provide clients with two access control options – another indication of how all our solutions are bespoke.
The aim behind these services is always the same. To heighten the simplicity, efficiency and benefits of our service – and with that, to optimise the level of control and security for our clients.
We develop practical solutions which result in significant time and cost savings for our clients.
Our CCTV solutions can be installed to operate either overtly or covertly.
Consultancy & Design
Using the expertise developed across the complementary areas of SecureWais, we are able to provide bespoke single-point solutions – both for individual sites and also multi-jurisdictional sites.
We are regularly requested to provide a design service and also technical specifications for equipment, and to then supply that equipment to a variety of projects in many jurisdictions around the globe.
Typically, upon receiving a consultancy instruction and brief from a client, we will conduct a site Inspection and survey. Armed with this information, a design is prepared and the proposal is discussed with our client. At this stage, we will also specify what equipment is needed.
In conjunction with our client, we will then make a decision: whether to send our own engineers to carry out the installation, or to engage the services of a sub-contractor with whom we will then partner in that specific jurisdiction.
Even when the installation is carried out by a partner sub-contractor, SecureWais will undertake the final set-up and commissioning of the system. That way, we can ensure full compliance with the agreed design proposal.
We also provide a pure consultancy service. This is where we are engaged to adjudicate and advise on tender proposals for a specific project. We undertake a review of the designs and equipment specified by the tender participants, and evaluate the bid in terms of its efficacy, practicality and value for our client's money. Our report is then submitted for our client's consideration – prior to implementation.
Access Control Options
We provide clients with remote and local access control options. This is yet another indication of how all our solutions are bespoke.
Remote Access
These systems are managed and maintained by SecureWais.
A WinPak Access Control System is used.
The System is linked to our Servers to enable us to provide remote bureau support and diagnostics.
Access programming is done via e-mailed instruction, by means of a remote ADSL link.
A nominal fee is charged for this service.
Instructed transactions are logged and we invoice quarterly in arrears.
A full user database is maintained and all historic transactions are stored for three months.
Transactional reports are available at any time for a nominal fee.
Local Access
These systems are managed by security/on-site staff.
Access Control Database
Access control software can be utilised on an on-site PC.
Access programming is done via Access Control software. A user database and all history transactions are made available.
On-site card lamination can be used for ID purposes.
Lamination software/hardware can be maintained on-site
A remote facility can be installed for guidance and system diagnostics.
Visitor ID
The visitor ID Control System uses an on-site PC.
Print and lamination software produces visitor passes.
This allows for a fire-alarm roll-call to be implemented.
This provides management with a visitor tracking report.
Reader Controllers
A non-PC based system can be used.
Access programming is done on-site, at a reader controller.
These systems do not generate a database or transaction records.
Certain systems may be programmed by on-site staff.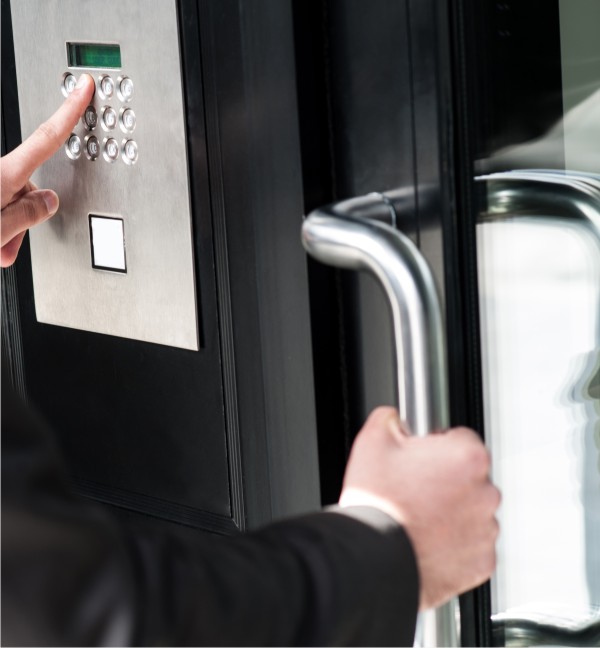 Bespoke Remote & Local Access Control Solutions
Card Bureau Services
Our Card Bureau provides a remote monitoring and reporting service.
Many of our clients prefer to have their access control system database maintained – and also their access cards/fobs programmed and issued – by SecureWais, as it results in significant efficiencies and cost savings.
By subscribing to our card bureau, a client is provided with a unique password and pin number – giving them direct access to their own records on our servers.
Cards may be ordered and reports generated at a fraction of the cost of doing so on the client's own premises. In addition, events are saved on our servers for a three-month period, allowing a client to generate retrospective reports to assist in investigating incidents.
Lamination Service
Proximity access cards can be designed to be used as a photo ID.
Bespoke artwork can be arranged for the design of individual cards.
Photo ID database is maintained by SecureWais.
Cards have a return address.
Health and safety notices can be printed on the back of the cards.
Would you like to discuss a security solution for your business?